Showing Products 1 to 3 of 3 Products.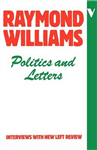 Raymond Williams has made a central contribution to the culture of the Left in the English-speaking world. Politics and Letters is a volume of interviews with Williams, conducted by members of the New Left Review editorial committee, that is designed to bring into clear focus the major theoretical and political...
On sale!
Paperback
Save £0.99 =

£22.00
Raymond Williams's work was always concerned with the relation between culture and society. This book focuses on specific texts and authors, exploring the historical and cultural sources of their particular forms of writing. In it, Williams examines dramatic form and language in Racine and Shakespeare; the politics of fiction in...
Showing Products 1 to 3 of 3 Products.