Showing Products 1 to 2 of 2 Products.
On sale!
Hardback
Save £25.54 =

£44.46
By 1914 France had amassed over ten million square kilometres, and 60 million people including the colonies of Algeria, Tunisia, Morocco, the colony in S.E. The author describes in detail the physical struggles between the colonies and their rules and the subsequent demise of the Empire.
On sale!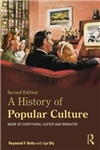 Paperback
Save £1.46 =

£24.53
This lively and informative survey provides a thematic global history of popular culture focusing on the period since the end of the Second World War. A History of Popular Culture explores the rapid diffusion and 'hybridization' of popular culture as the result of three conditions of the world since the...
Showing Products 1 to 2 of 2 Products.