Showing Products 1 to 2 of 2 Products.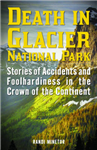 Glacier National Park's death records date back to January 1913, when a man froze to death while snowshoeing. All told, 260 people have died in the first hundred years of the park's existence. Collected here are the most gripping accounts in park history of these unfortunate events caused by natural...
On sale!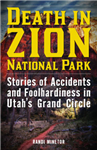 Paperback
Save £1.92 =

£9.03
Morbid, but strangely fascinating accounts In 2015, a group of seven hikers were killed when a sudden flood struck Keyhole Canyon in Zion National Park. Prior to that, the steep, narrow route to Angels Landing led to at least five fatalities. Numerous people have found that high, exposed places in...
Showing Products 1 to 2 of 2 Products.