Showing Products 1 to 2 of 2 Products.
On sale!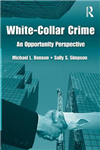 Paperback
Save £9.14 =

£19.85
As an instructor teaching white collar crime, are you frustrated by texts which leave your students feeling outraged but helpless about the subject? This text explains to students why white-collar crime is so prevalent and so difficult to control. It addresses the difficulty of controlling white-collar crime.
When Drew, a 12-year-old Jewish boy from Yonkers, loses his beloved grandfather to anti-semitic gang violence, he turns to tradition, anger, and Kabbalah to serve vengeance. Conjuring a supernatural defender to protect his city brings Drew unimaginable power-power he may not be able to control. As the gangsters grow closer...
Showing Products 1 to 2 of 2 Products.