Showing Products 1 to 2 of 2 Products.
On sale!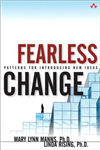 Hardback
Save £9.94 =

£21.05
Highlights 48 proven techniques, or patterns, for implementing change in organizations or teams of various sizes, and shows you how to use them successfully. This book enables you to understand the forces in your organization that drive and retard change and plant the seeds of change.
On sale!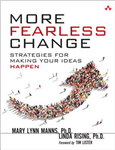 Paperback
Save £6.16 =

£23.83
63 New and Updated Patterns for Driving and Sustaining Change "The hard part of change is enlisting the support of other people. Whether a top manager interested in improving your organization's results or a lone developer promoting a better way of working, this book will give you tools and ideas...
Showing Products 1 to 2 of 2 Products.