Showing Products 1 to 2 of 2 Products.
On sale!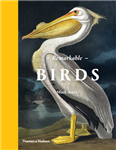 Hardback
Save £7.52 =

£17.43
We share the Earth with more than 10,000 species of birds and we have always been enchanted by them. This book features over 60 birds, organized thematically into eight sections, that cover all aspects of our relationship with birds. It also celebrates the greatest bird virtuosi, such as the Nightingale.
On sale!
Paperback
Save £1.54 =

£8.45
Driven grouse shooting, where flocks of Red Grouse are chased by lines of beaters so that they fly over lines of 'guns' that shoot the fast-flying birds, is a peculiarly British fieldsport. It is also peculiarly British in that it is deeply rooted in the British class system. This multi-million...
Showing Products 1 to 2 of 2 Products.