Showing Products 1 to 2 of 2 Products.
On sale!
Hardback
Save £18.34 =

£33.66
The first axial flow combine transformed the industry and was hailed as the most significant piece of farm equipment built in the 20th century. This book tells the story of how extensive research and development allowed IH to build a new machine that took the market by storm.
On sale!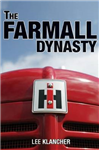 Paperback
Save £3.54 =

£11.45
The developmental history of the tractors built by the dominant agricultural manufacturer of the early 20th Century, International Harvester, is dramatically told in The Farmall Dynasty. The book traces the evolution of the Farmall tractor from the early Titans and Moguls through to modern times.
Showing Products 1 to 2 of 2 Products.