Showing Products 1 to 2 of 2 Products.
On sale!
Paperback
Save £4.14 =

£12.36
Time after time during the Vietnam War, the United States sent Vietnamese spies and commandos behind enemy lines only to have them killed, captured or compromised into reporting back false information. This is a sobering account of the disastrous secret programme.
On sale!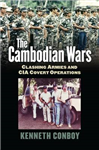 Hardback
Save £11.52 =

£23.43
An authoritative history of the violence that plagued Cambodia from World War II until the end of the twentieth century--and an expose of CIA activities there, peeling back the layers of secrecy that surrounded the CIA's covert assistance to anticommunist forces in Cambodia during that span.
Showing Products 1 to 2 of 2 Products.