Showing Products 1 to 2 of 2 Products.
On sale!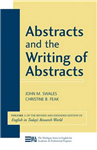 Paperback
Save £3.34 =

£11.16
Focuses on abstracts for research articles before addressing abstracts for short communications, conferences, and PhD dissertations. This title covers keywords, titles, and author names. It discusses options and provides tips for meeting specific linguistic challenges posed by the writing of different types of abstracts.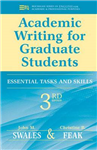 Coverage includes understanding the intended audience, and academic genres; the use of task-based methodology, analytic group discussion, and genre consciousness-raising; how to write summaries and critiques; and helping students position themselves as junior scholars in their academic communities.
Showing Products 1 to 2 of 2 Products.