Showing Products 1 to 4 of 4 Products.
Paperback
Save £2.74 =

£10.25
An epic narrative history that compares and contrasts the fortunes of all the countries that make up South Asia.
Hardback
Save £7.54 =

£17.46
In the first modern biography of Alexander Gardner, a remarkable 19th-century American mercenary fighting his way across Asia's mountain passes, bestselling author of 'India: A History', John Keay, unravels the greatest enigma in the history of travel.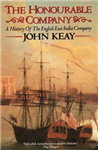 During 200 years the East India Company grew from an association of Elizabethan tradesmen into a powerful organization. As a commercial enterprise it came to control half the world's trade and as a political entity it administered an empire. This book looks at the history of the Company.
Showing Products 1 to 4 of 4 Products.