Showing Products 1 to 2 of 2 Products.
On sale!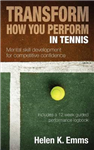 Hardback
Save £9.54 =

£20.45
MENTAL TOUGHNESS FOR PEAK PERFORMANCE TENNIS * Discover the key Mental Strategies for Peak Performance * Achieve Deep Confidence for Competitive Success * Learn the art of Self-Discipline and Mental Skill Mastery * Develop the Champion Performer Mind-Set This book is full of practical tips and tools to help you...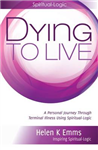 Dying to Live is a very personal book, which weaves Helen K Emms' own recent experience of bereavement with Spiritual-Logic insights and lessons to support the handling of death, dying and loss with a greater sense of peace. On 21 March 2011, Helen's mother, Valerie Emms, was diagnosed with a...
Showing Products 1 to 2 of 2 Products.