Showing Products 1 to 2 of 2 Products.
On sale!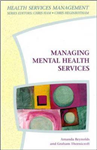 Paperback
Save £8.34 =

£18.65
Designed to help managers of mental health services cope, survive and fulfil their role, this book intends to demystify managerial terms, to provide a summary of the relevant policy and legal framework, and to provide signposts to assist managers in making their way through the maze of service planning and...
People with mental illness commonly describe the stigma and discrimination they face as being worse than their main condition. 'Shunned' presents clearly for a wide readership information about the nature and severity of discrimination against people with mental illness and what can be done to reduce this.
Showing Products 1 to 2 of 2 Products.