Showing Products 1 to 2 of 2 Products.
On sale!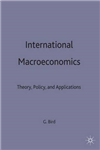 Hardback
Save £6.04 =

£78.96
The first part examines the macro theory of the open economy: the second part examines macroeconomic stabilisation policy in the context of an open economy, and the world economy: and the third part looks at various case-studies or applications of the analysis introduced in the first two parts.
On sale!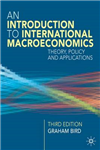 Paperback
Save £9.54 =

£20.45
The main purpose of this book is to show the relevance of international macroeconomics to understanding the world economy. It provides a succinct summary of open economy macroeconomics from a theoretical perspective and analyzes policy covering the balance of payments, exchange rates, capital flows and the co-ordination of macroeconomic policy.
Showing Products 1 to 2 of 2 Products.