Showing Products 1 to 2 of 2 Products.
On sale!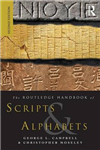 Paperback
Save £1.89 =

£27.10
This text presents a reference to the main scripts & alphabets of the world. It presents over 60 alphabets covering an enormous scope of languages; from Amharic & Chinese to Tahi & Cree. Full scripts tables are given for every language & each entry is accompanied by a detailed overview...
On sale!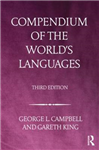 Hardback
Save £125.54 =

£194.46
This third edition of 'Compendium of the World's Languages' has been thoroughly revised to provide up-to-date and accurate descriptions of a wide selection of natural language systems. All cultural and historical notes as well as statistical data have been checked, updated and in many cases expanded.
Showing Products 1 to 2 of 2 Products.