Showing Products 1 to 2 of 2 Products.
On sale!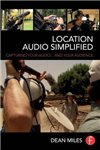 Paperback
Save £2.60 =

£31.39
From the basics of using camera, handheld, lavalier, and shotgun microphones to camera calibration and mixer set-ups, Location Audio Simplified unlocks the secrets to clean and clear broadcast quality audio no matter what challenges you face. Author Dean Miles applies his twenty-plus years of experience as a professional location operator...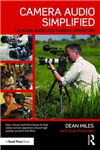 You've spent a lot of time learning how to use the features of your video camera to take amazing pictures, but chances are the audio always gives you trouble! Today, with production budgets shrinking, many are being asked to go-it-alone and sound is a frequent pain point that can drag...
Showing Products 1 to 2 of 2 Products.