Showing Products 1 to 3 of 3 Products.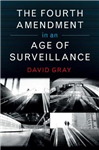 The Fourth Amendment in an Age of Surveillance offers a vivid and available account of contemporary surveillance technologies and the current crisis in Fourth Amendment law that those technologies have wrought. It also offers a series of workable solutions, built on a careful analysis of the Fourth Amendment's text and...
Take Care is a practical guide that will enable employers to better understand and support employees with caring responsibilities. It presents this as part of good management practice that strengthens organizational resilience and sustainability, and also argues that this is now an integral element of being a responsible employer and...
Showing Products 1 to 3 of 3 Products.