Showing Products 1 to 2 of 2 Products.
On sale!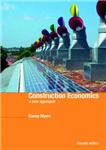 Paperback
Save £10.74 =

£22.25
Offers students with the principles and concepts of economic theory and relates this to the construction industry. This book cover debates on the private finance initiative, value management, off-site manufacture, the credit crunch, the 2008 OFT investigation into contractors colluding, and sustainable construction.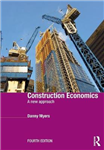 Construction Economics provides students with the principles underlying the relationship between economic theory and the construction industry. Its new approach specifically examines the problems of securing sustainable construction. The new edition has been fully revised to provide an overview of the economy and construction markets since the global financial crisis....
Showing Products 1 to 2 of 2 Products.