Showing Products 1 to 3 of 3 Products.
On sale!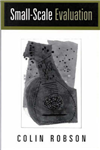 Paperback
Save £10.34 =

£21.65
Colin Robson provides guidance on how evaluation be used most effectively in a clear and uncluttered way. The issue of collaboration is examined step-by-step; stakeholder models are compared with techniques such as participatory evaluation; ethical considerations are placed in context; and the best ways of communicating findings are discussed.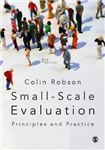 Evaluation research can assess the value and effectiveness of interventions and innovations involving people. While this has often been on a grand scale, this book focuses on small-scale projects carried out by an individual or small group, typically lasting for weeks or at most a few months, at a local...
On sale!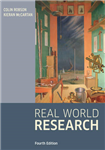 Paperback
Save £3.54 =

£36.45
Real World Research provides a clear route-map of the various steps needed to carry out a piece of applied research to a high professional standard. It is accessible to those without a social science background while providing rigorous and fully up-to-date coverage of contemporary issues and debates.
Showing Products 1 to 3 of 3 Products.