Showing Products 1 to 2 of 2 Products.
On sale!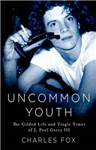 Hardback
Save £4.74 =

£13.25
Grandson of Getty Oil founder J Paul Getty, "Little Paul's" life may have been cursed by money and privilege from the moment he was born. Falling in with the wrong people and abandoned by his famous family, Getty was a child of his international jet set era, moving from Marrakesh...
On sale!
This practical handbook makes it easy to learn more about Type 1 diabetes. The authors comprehensively answer over 410 questions about every aspect of living with the condition, and their constructive approach will give you all the knowledge you need to deal confidently with your diabetes.
Showing Products 1 to 2 of 2 Products.