Showing Products 1 to 2 of 2 Products.
On sale!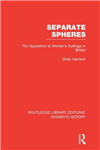 Hardback
Save £25.54 =

£44.46
The British feminist movement has often been studied, but so far nobody has written about its opponents. Dr Harrison argues that British feminism cannot be understood without appreciating the strength and even the contemporary plausibility of 'the Antis', as the opponents of women's suffrage were called.
On sale!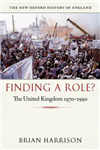 Paperback
Save £7.52 =

£17.43
An impressively detailed but also unusually wide-ranging analysis of post-war Britain from 1970 to the end of Mrs Thatcher's term as prime minister in 1990, covering everything from international relations to family life, the countryside to manufacturing, religion to race, cultural life to political structures.
Showing Products 1 to 2 of 2 Products.