Showing Products 1 to 2 of 2 Products.
On sale!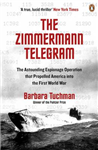 Paperback
Save £1.94 =

£9.05
Barbara Tuchman's The Zimmerman Telegram is one of the greatest spy stories of all time.Nothing can stop an enemy from picking wireless messages out of the free air - and nothing did. In England, Room 40 was born . . .In January 1917, with the First World War locked in...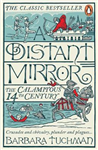 The fourteenth century was a time of fabled crusades and chivalry, glittering cathedrals and grand castles. It was also a time of ferocity and spiritual agony, a world of chaos and the plague. Here, Barbara Tuchman masterfully reveals the two contradictory images of the age, examining the great rhythms of...
Showing Products 1 to 2 of 2 Products.