Showing Products 1 to 3 of 3 Products.
On sale!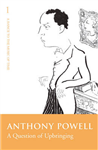 Paperback
Save £1.94 =

£9.05
In this first volume of Anthony Powell's `A Dance to the Music of Time', Nick Jenkins is introduced to the ebbs and flows of life at boarding school in the 1920s, spent in the company of his friends: Peter Templer, Charles Stringham, and Kenneth Widmerpool.
A post as special correspondent for a new and fragile Baltic state gives the young but melancholy Lushington an opportunity to turn his back on an unhappy love affair. Yet it is Lushington who once more finds himself out of his depth...
The hugely successful early novel which established Anthony Powell as a leading voice in English comic fiction, What's Become of Waring is the teasing and wittily contrived story about a famous but elsuive travel author who seems to have some very good reasons for concealing his life behind a screen...
Showing Products 1 to 3 of 3 Products.