Showing Products 1 to 2 of 2 Products.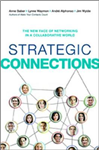 Unveiling eight indispensable competencies for the new Network-Oriented Workforce, this book provides practical advice for building better, more productive business relationships. It gives you the tools you need to meet goals, execute strategies, foster innovation, and make yourself invaluable to your organization.
On sale!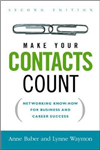 Paperback
Save £2.34 =

£9.65
Make Your Contacts Count is a practical, step-by-step guide for creating, cultivating, and capitalizing on networking relationships and opportunities. Packed with valuable tools, the book reveals a field-tested 'Hello to Goodbye' system and offers all the networking help readers need to supercharge their career or boost their business's bottom line.
Showing Products 1 to 2 of 2 Products.