Showing Products 1 to 2 of 2 Products.
On sale!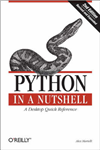 Paperback
Save £9.94 =

£21.05
Offers Python programmers one place to look when they need help remembering or deciphering the syntax of this open source language and its many powerful but scantily documented modules. This comprehensive reference guide contains details of Python's subprocess module and breaking news about Microsoft's IronPython project.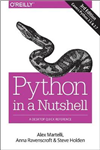 The third edition of this practical book provides a quick reference to the language-including Python 3.5, 2.7, and highlights of 3.6-commonly used areas of its vast standard library, and some of the most useful third-party modules and packages.
Showing Products 1 to 2 of 2 Products.