Sign up for offers & news
Enter your email address to receive news and special offers.
Vreni is a truly special story and we don't want to spoil it with a lengthy description. Nevertheless you need to know enough to buy it so we will tell you this...
Vreni and the secret at hengist point
- a love story
This turbulent love story explores the twilight world between youth and early adulthood, with its mixture of idealism, love, realism and sheer caprice.

When Carl first meets Vreni outside a busy pub on a cold, snow-blown winter evening, he is totally unaware of the new directions his life will follow, including the discovery of a hoard of Nazi gold which has political implications that have remained buried in secrecy since World War Two. The story revolves not only around Carl and Vreni, but also around the lives of six further closely-knit students and how they all become victims of the ever-increasing value of the gold. The final decisions they make, and the all-encompassing passion Carl feels for Vreni and her consuming beauty, drive the story forward.
Vreni embraces the many philosophical facets of love, sexuality, the complexity and longevity of relationships, and loss and rejection. This makes for a highly readable book that will appeal equally to male and female readers.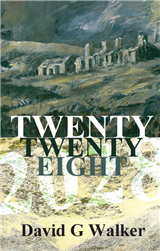 David G Walker has also written a fast paced adventure set against a background of political speculation...
Twenty Twenty Eight ia a fast paced wonderfully evocotive adventure set against a background of geological speculation, in the near future: when oil and its associated energy resources are almost entirely depleted. The story focuses on an isolated group when confronted by the actions of a totalitarian state in near collapse.; a state that is being forced into surrender by subversive gangs taking over the cities.
The group has already stockpiled food, arms and ammunition in a disused lead mine in order to defend themselves against the desperate half-starved hordes pouring out of the cities. Eventually they realise their situation is becoming ever more hopeless and decide to escape the horror altogether. They head towards what they believe will be a new Utopia. But what awaits them is something just as ominous.
David G Walker's novel paints a strikingly vivid picture of how our world could be in the not too distant future. But he also applauds love and adventure against a backdrop of exotic landscapes, giving hope for the future however arduous life may become. The story also touches on the part myth, part reality of our modern world; the spectacle of a life we are supposed to believe in, as opposed to the truth behind the spectacle.