Sign up for offers & news
Enter your email address to receive news and special offers.
The Invisible Library - Genevieve Cogman
Genevieve took some time out from writing the third book to speak to us about this exciting new trilogy...

The Invisible Library has been referred to as Doctor Who with librarian spies. Where did the inspiration for the trilogy come from?
The inspiration came from a lot of different places, everything from Zelazny's Chronicles of Amber to Ursula le Guin's wizards by way of Pratchett's L-space, but ultimately I think it comes down to my own personal love of books, and of libraries. Throughout my life I have loved hanging out in libraries, and just finding a corner there to read, or going home with an armful of books. Libraries have potential. Libraries are storehouses. And it's not just because you can look up facts in libraries, important as that is. Libraries are full of stories, and you need stories to make sense of your life and to have dreams for the future. Stories teach us empathy, forethought, understanding, and a lot of other qualities which can be looked up from A to Z. Stories are part of what makes us human: both the ones we create for ourselves, and the ones we share with other people. The Librarians of the Invisible Library save books, and by doing so, they save stories.

A librarian's power comes from their control over 'The Language' which enables them to do amazing things like control inanimate objects and open portals to The Library. If you could have a superpower, what would it be and why?
I think I would personally like immediate and accurate teleportation. I could go wherever I wanted to – visit friends, visit other countries, visit yarn shops… In pragmatic terms, I could probably turn it into a paid service and make enough off it to live comfortably, but having superpowers is rarely about pragmatism. I'd like to be able to snap my fingers and visit a friend in New Hampshire, without even worrying about the snow.

Do you have a clear idea of how the trilogy is going to end? And can you reveal anything about book 2?
I know how I'm planning for book 3 to end. I'm about 50K words or so off getting there. We'll see if things change between here and there. As for book 2 – well, my publisher's ninjas would come after me with poison-tipped blades if I reveal too much, but I can tell you that it involves enjoyable foreign travel, uplifting cultural experiences, boat trips, train rides, and at least one occurrence of someone getting shot. Fun for all concerned.
Do you have any tips for aspiring authors?
My best thoughts on the matter are "read a lot, write a lot, repeat". I'd also add "cultivate a lot of patience" and "your editor is your best friend, even if you have just received a new set of edits and want to end the world in a nuclear apocalypse".

What are you reading at the moment and are there any SFF novels coming up in 2015 that you can't wait to get your hands on?
I'm currently reading Karen Memory by Elizabeth Bear, which is fantastic. I'm also looking forward to Uprooted from Naomi Novik, The Hanging Tree from Ben Aaronovitch, Sorcerer to the Crown from Zen Cho, and probably I'll think of half a dozen others the moment I close this document.
"A fascinating read" Books Monthly

"A Fantastic book and a wonderful read" Bernie Keith (presenter for BBC Radio Northampton)
Get to know the author - a little bit about Genevieve.
Genevieve Cogman got started on Tolkien and Sherlock Holmes at an early age, and has never looked back. But on a perhaps more prosaic note, she has an MSC in Statistics with Medical Applications and has wielded this in an assortment of jobs: clinical coder, data analyst and classifications specialist. Although The Invisible Library is her debut novel, she has also previously worked as a freelance roleplaying game writer.
Genevieve Cogman's hobbies include patchwork, beading, knitting and gaming, and she lives in the north of England.ducated at Haberdashers' Aske's Hampstead School, I grew up in London and became seduced by its energy and complexity.
More Sci-Fi and Fantasy titles from Tor Books
On Sale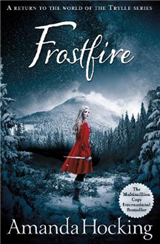 On Sale