Sign up for offers & news
Enter your email address to receive news and special offers.
"a sexy fast-paced historical murder mystery…a thrilling combination of corsets, Emmeline Pankhurst and female journalists…" Lesley McDowell, The Herald
Paperback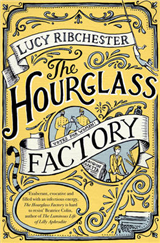 The Hourglass Factory
We were lucky enough to speak to author Lucy Ribchester, about the inspiration for her latest novel The Hourglass Factory, which has been best described by The Independent as 'a suffragette romp with a moral message at its centre.'
'The Hourglass Factory is about lots of things – suffragettes, circuses, fetishists, journalists – but what seems to have captured the imagination of readers is your portrayal of suffragettes. Have you always been interested in the suffragette movement and what got you into it in the first place?
My knowledge of the suffragette movement was very patchy for most of my life, until about five years ago. I remember when I was little my dad telling me about the woman who had thrown herself under the King's horse, and having a vague awareness about women chaining themselves to railings. Then later I read about Emmeline Pankhurst in a book about outrageous and heroic women that my Auntie Ros had given me for Christmas. Fast forward many years, and I can't quite remember what exactly sparked me to delve into the suffragettes again, but I did really want to write something about feminism and music hall, and because music hall's heyday was the same era as the height of suffragette militancy, the two seemed to fall together quite naturally.
You really bring the people behind the history to life in your novel. Was it important to you to show the suffragettes in a new light?
Thank you! I think it was just important to me to show the suffragettes in any light! There aren't (or certainly weren't) many mainstream portrayals of them out there when I began writing The Hourglass Factory. There are some beautiful literary novels, such as Tracy Chevalier's Falling Angels, and some great novels written during the period, such as Constance Maud's No Surrender, but I didn't have an awareness of any thrillers or entertaining genre fiction books written about the suffragettes - and that was really what I wanted to read. Now there's a great graphic novel called Sally Heathcote: Suffragette, but that didn't come out until after The Hourglass Factory had already been sold. Also now the film Suffragette is coming out I think that will make a huge difference to people's cultural awareness of the movement. I can't wait to see it; it's got such a brilliant cast.
For the rest of Lucy's Q&A please click here to visit our blog.
Get to know the author - a little bit about Lucy.
I'm a dance and fiction writer based in Edinburgh. Many moons ago I studied English at the University of St Andrews, and later Shakespearean Studies at Kings College London and Shakespeare's Globe. I then embarked on a strange and waggly career path organising parties at a boutique cinema in London, working for Al Jazeera television network, freelance writing while living in Spain, and later coordinating the National Trust for Scotland's annual cruises (where I worked onboard a ship, swam with icebergs, set foot on St Kilda, and finally learned how to ceilidh dance).
I won a Scottish Book Trust New Writers Award in 2013, and now work as a freelance dance journalist and adult education tutor, alongside fiction writing. When I'm not doing any of those things I like to make origami jewellery out of old book paper.
I have a retired greyhound called Buster whom you will see a lot of if you follow me on Twitter @LucyRibchester
Image Credit - Kuba Kolinski
Just some of Lucy's reccomendations & more from Simon & Schuster