Sign up for offers & news
Enter your email address to receive news and special offers.
"Christina James intricately plots an engaging mystery filled with a delectable assortment of characters, situations, and possibilities"
Sausage Hall - Christina James
Sausage Hall is the local nickname for the Sutterton home of multi-millionaire Kevan de Vries, grandson of a Dutch immigrant farmer. De Vries has built up a huge farming and food packing empire which, via the banana trade, extends to the West Indies. Tony Sentance, the shady MD of de Vries Industries, persuades de Vries to branch out into the luxury holiday business. De Vries and Joanna, his wife, take the first cruise to St Lucia to explore the possibilities. While they are away, a break-in at Sausage Hall leads to a gruesome discovery. Shortly afterwards, a young de Vries employee is found dead in Sandringham woods. DI Yates is called in to investigate, aided once again by DC Juliet Armstrong – though she is taken out of active police work early in the novel by an unfortunate accident, which leads her to make some new discoveries about herself. From her hospital bed, and assisted by Katrin, Tim's police researcher wife, she helps to unlock the mysteries surrounding Sausage Hall. The novel draws together the parallel themes of exploitation of African women in the nineteenth century and Eastern European immigrant workers today.

Sausage Hall is the third novel in the DI Yates series. All of the novels are standalone – they don't have to be read in sequence. All feature DI Tim Yates, a young, impulsive, go-ahead, occasionally insensitive detective and his beautiful wife Katrin, with a cast of supporting characters that include the long-suffering DC Juliet Armstrong and her colleagues Andy Carstairs and Ricky McFadyen.

The first in the Yates series is In the Family, which begins with the discovery of the skeleton of a young woman by workmen during maintenance work on the A1, leading DI Yates to re-open the case of Dorothy Atkins, a woman convicted thirty years previously of the murder of her mother-in-law. The dysfunctional Atkins family is apparently still hiding something connected with the murder, whilst Hedley Atkins, Dorothy's son, has recently allowed a new friend, Peter Prance, to move into his flat. Is Peter just a scrounger, or is there something more calculated in his pursuit of Hedley?

Almost Love, the second DI Yates novel, tells the story of a famous veteran archaeologist, Dame Claudia McRae, who has vanished, leaving only a distressing smear of blood to indicate her fate. A suspected drugs syndicate is using children as couriers and the secretary of the Spalding Archaeological Society, a venerable institution, has embarked on an ill-considered affair with a colleague. Is there a connection between these events?

Christina James has worked variously as a bookseller, researcher and teacher. She grew up in Spalding, Lincolnshire and has had a lifelong fascination with the beauty of the Lincolnshire fens, their limitless skies and isolated communities. Much of this fascination has now been incorporated into to the D.I. Yates series. Under a separate name, James is a successful non-fiction writer.
To celebrate the publication of Sausage Hall, The Great British Book Shop is sponsoring a short-story competition, to be announced during a workshop for the students of Spalding High School on 17th November, Sausage Hall's publication date. Students at the school will be invited to enter the competition and James will select the best ten stories for inclusion in a book to be produced free of charge by The Great British Book Shop; each student winner will be presented with a copy of this. Further copies will be available for sale from The Great British Book Shop. We'll keep readers posted about this in The Great British Book Shop News.
WIN! – We have 2 signed copies of Sausage Hall to give away
To enter the competition to win a personally signed copy of this fantastic book, please click here.
Terms & Conditions – Entries close at midnight on the 24th November 2014, winners will be contacted directly by email and will be announced through social media and on our competitions page. Open to readers who have already signed up to our newsletter.
Other titles by Christina James
On Sale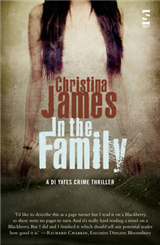 On Sale