Sign up for offers & news
Enter your email address to receive news and special offers.
The Disappearing Dictionary
by David Crystal
Wherever you go in the English-speaking world, there are linguistic riches from times past awaiting rediscovery. All you have to do is choose a location, find some old documents, and dig a little. In The Disappearing Dictionary, linguistics expert Professor David Crystal collects together delightful dialect words that either provide an insight into an older way of life, or simply have an irresistible phonetic appeal. Like a mirror image of The Meaning of Liff that just happens to be true, The Disappearing Dictionary unearths some lovely old gems of the English language, dusts them down and makes them live again for a new generation.

Take a look at our Q & A with the author...
The Great British Book Shop: A classic question that I'm sure you'll answer like it's second nature. What inspired you to write The Disappearing Dictionary?
David Crystal: Last year I was looking something up in Joseph Wright's remarkable six-volume English Dialect Dictionary, published in the years around 1900, and as I flipped the pages my eye was caught by several fascinating old words I'd never come across before. I jotted a couple down, and then thought: 'I wonder how many more there are like that?' So I began at letter A and read through to letter Z, and found hundreds. The reading brought home to me just what an amazing job Wright did, and what a shame it is that hardly anyone now remembers his work in compiling the first comprehensive study of dialect words in the British Isles. I felt the Dictionary and his extraordinary career - beginning as an illiterate quarry-boy and ending as an Oxford professor of philology - deserves to be celebrated.
Q. What's your favourite word that you unearthed featuring in your book?
A. I don't really have a favourite. Or perhaps I should say: they are all my favourites. Who could ever resist the appeal of such words as discomfrontle and lobstropolous?
Q. I think the word 'Dabberlick' meaning a tall and skinny person could definitely replace 'Lanky'. Where did the word 'Dabberlick' originate from?
A. The etymology is unknown. The fact that the word was used to describe such long stringy things as seaweed suggests that it was applied analogously to humans. The -lick part is probably a spelling of -like.The 'dab' part may be related to the verb 'dab', which has often been used in the history of English to refer to things that are slight, quick, and thin.
Q. Would you recommend your book as a back-to-school essential as a true guide to the dialect of the English Language?
A. No. It's not a comprehensive guide to English dialects. From a schools point of view, I would see it more as a stimulus for an exploration of local uses of language. Students love to collect their local words, and to see them taken seriously. My book, I hope, would motivate them to do some local research. The English curriculum already has a focus on accents and dialects, especially at A-level.
'I would see it more as a stimulus for an exploration of local uses of language.'

Q. Would you consider yourself a prescriptivist who believes we should preserve the English language and reject change?
A. Certainly not! The complete opposite. I'm amazed that anyone should even think of me in that way, given my 50-year well-documented history of opposition to prescriptivism.
dabberlick [noun, Scotland]
A mildly insulting way of talking about someone who is tall and skinny. 'Where's that dabberlick of a child?'

fubsy [adjective, Lancashire]
Plump, in a nice sort of way.

squinch [noun, Devon]
A narrow crack in a wall or a space between floorboards. 'I lost sixpence through a squinch in the floor.'
Hardback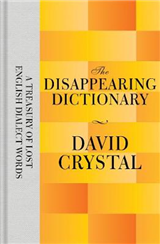 More from David Crystal...
On Sale