Sign up for offers & news
Enter your email address to receive news and special offers.
On sale!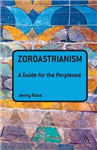 Paperback
Save £0.54 =

£14.45
The history of the development of Zoroastrianism spans over 3000 years, beginning in prehistory as an oral tradition, with roots in a common Indo-Iranian mythology. This title takes foundational trifold ethic to form the framework for discussing the ideological complexities and ethical underpinning of the religion.