Sign up for offers & news
Enter your email address to receive news and special offers.
Shop

>

War & defence operations
On sale!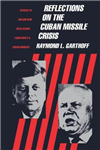 Paperback
Save £1.52 =

£8.43
The Soviet response to the first edition of Reflections has been a prime example of the new openness under glasnost in discussing previously taboo subjects. Using new revelations from key Soviet and Cuban Sources, Garthoff has revised his earlier analysis to produce the most accurate, eye-opening story yet of the...