Sign up for offers & news
Enter your email address to receive news and special offers.
Shop

>

Ropework, knots & macrame
Ropework, knots & macrame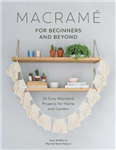 Discover a fresh, new take on the traditional craft of macrame, a craft that was incredibly popular in the seventies, is currently enjoying a renaissance. Macrame projects are the best way to bring the current trend for hippy luxe, boho interiors into your home.
Paperback
Save £2.74 =

£10.25
In recent months there has been an astonishing resurgence in the striking yet simple craft of macram first made popular in the 1970s. In Macram , Fanny Zedenius offers a refreshing twist on the addictive craft. Beginning with the basics, she takes us through all the essentials: what you need...
Paperback
Save £2.74 =

£10.25
Let Gemma rope you in to create a range of fun DIY projects for your apartment, your wardrobe, your pets, your kids or a dinner party with friends. Projects feature Gemma's famous ropework, but she also shares a range of other craft projects, tips and tricks for dressing up the...
Paperback
Save £3.54 =

£11.45
Micro-Macrame Jewelry, Stylish Designs for Everyday Wear by author and designer Kelsy Eason contains 20 plus knotting projects for the beginner. Her teaching style is simple for the beginner to learn and she adds tips throughout the book to make the experience even more enjoyable. Kelsy uses a variety of...
Paperback
Save £4.34 =

£12.65
A treasure trove of ropework projects: from key fobs, fenders, and doorstops to mats, bellropes, and belts.
Paperback
Save £1.94 =

£9.05
Explore the fabulous world of micro macrame with this collection of 25 jewellery projects to make.
Paperback
Save £1.94 =

£9.05
29 trendy macrame designs accompanied by 9 illustrated step-by-step tutorials on knotting techniques. Projects include jewellery, bags, accessories and various ideas for embellishing your outfits
Paperback
Save £2.34 =

£9.65
Cute no-knit projects for beginner-level crafters who love yarn!
Hardback
Save £1.54 =

£8.45
Essential rope-and-string tying advice for the nerdily inclined. Includes two lengths of rope to help you practice tying knots.