Sign up for offers & news
Enter your email address to receive news and special offers.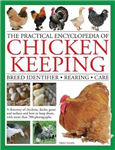 Directory of chickens, ducks, geese and turkeys and how to keep them, with 700 photographs.
Paperback
Save £1.54 =

£8.45
Offers all the information you need to help you to start keeping chickens, from how to choose, house, feed and handle them to how many eggs they lay, their affect on the local ecosystem and how to protect from foxes and other predators.
Paperback
Save £1.54 =

£8.45
Everything you need to know or would be interested to learn about humanity's other best friend and partner, the humble chicken, who played a crucial role in world history.
Paperback
Save £0.74 =

£7.25
Self-sufficiency and organic living have never been more prominent and hen keeping is becoming increasingly popular.
Paperback
Save £2.34 =

£9.66
When Lauren Scheuer decided to raise backyard chickens she never expected that her family would fall in love with them, or the quirky adventures that followed. Scheuer's chickens, with their individual personalities, friendships and rivalries, star in this charming story filled with quirky humour and occasional heartbreak. Immersing herself into...
Paperback
Save £1.54 =

£8.45
Fresh golden-yolk eggs in ready supply, organic fertilizer for the vegetable garden-what's not to love about keeping chickens? This handbook includes answers to questions such as: What type of chicken suits your space? Where do you buy chickens? What should you look for when buying chickens? What housing will your...
Hardback
Save £1.14 =

£7.85
Focuses on the management of poultry. This title features more than three hundred million chickens and thirty million other domesticated fowl in the United States.
Paperback
Save £2.74 =

£10.25
Suitable for anyone who keeps quail or who is thinking about starting out, this title covers all key aspects of responsible quail husbandry, and explains how to set up and equip your quail house and pens, how to care for your birds, and how to breed and raise young hatchlings...