Sign up for offers & news
Enter your email address to receive news and special offers.
Shop

>

Cybernetics & systems theory
Cybernetics & systems theory
Paperback
Save £1.64 =

£18.35
Taking a broad sweep through history and across scientific disciplines, this volume integrates the ideas, models, and theories underlying the systems view of life into a single coherent framework. Life's biological, cognitive, social, and ecological dimensions are presented and its philosophical, spiritual, and political implications discussed.
Paperback
Save £1.89 =

£27.11
This book presents a collection of problems for nonlinear dynamics, chaos theory and fractals. Besides the solved problems, supplementary problems are also added. Each chapter contains an introduction with suitable definitions and explanations to tackle the problems.The material is self-contained, and the topics range in difficulty from elementary to advanced....
Hardback
Save £5.22 =

£58.78
This edited volume explores a wide array of ethical issues surrounding the advent of cyberwarfare. The moral complexities presented by cyberwar are many and they challenge our traditional understandings of just war theory and the ethics of war. This volume directly addresses the pressing need for serious scholarly analysis of...
Hardback
Save £8.14 =

£44.85
This new edition provides an up-to-date coverage of important theoretical models in the scheduling literature as well as significant scheduling problems that occur in the real world.
Hardback
Save £5.64 =

£34.86
Ultimately, he reveals the crucial role played by the cybernetics moment-when cybernetics and information theory were seen as universal sciences-in setting the stage for our current preoccupation with information technologies.
Paperback
Save £2.54 =

£46.45
An accessible and clearly-written introduction to chaos and nonlinear systems, with plenty of examples, illustrations and applications to science and engineering.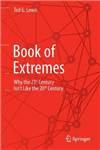 What makes the 21st century different from the 20th century? This century is the century of extremes -- political, economic, social, and global black-swan events happening with increasing frequency and severity. Life in the 21st century is a long-tailed random walk - Levy walks -- through extreme events of unprecedented...
Hardback
Save £8.19 =

£62.81
Heinz von Foerster was the inventor of second-order cybernetics, which recognizes the investigator as part of the system he is investigating. The Beginning of Heaven and Earth Has No Name provides an accessible, nonmathematical, and comprehensive overview of Heinz von Foerster's cybernetic ideas and of the philosophy latent within them.
Hardback
Save £14.64 =

£70.86
Mathematical Methods in Robust Control of Linear Stochastic Systems