Sign up for offers & news
Enter your email address to receive news and special offers.
Shop

>

Assembly languages
On sale!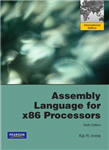 Paperback
Save £3.06 =

£65.93
Assembly Language for x86 Processors, 6/e is ideal for undergraduate courses in assembly language programming and introductory courses in computer systems and computer architecture. Written specifically for the Intel/Windows/DOS platform, this complete and fully updated study of assembly language teaches students to write and debug programs at the machine level....