Sign up for offers & news
Enter your email address to receive news and special offers.
Shop

>

Aspect programming / AOP
On sale!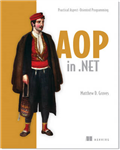 Paperback
Save £3.94 =

£28.05
DESCRIPTION Some functionality of an application, such as logging or authorization, cuts across all layers. In standard object oriented programming, it can be difficult to separate code that satisfies these cross-cutting concerns from code that implements the core behaviors of applications. Aspect-oriented programming AOP is a technique in which cross-cutting...