Sign up for offers & news
Enter your email address to receive news and special offers.
On sale!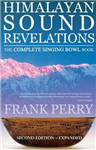 Paperback
Save £0.54 =

£19.45
Second edition, expanded and corrected, adding a chapter and an appendix, of the worldwide 'bible' of Himalayan bowls and other instruments such as drilbu and tingsha. Everything is included, from care of the bowl to the Tibetan Bon philosophy behind it and from ancient China to exercises to train the...