Sign up for offers & news
Enter your email address to receive news and special offers.
Shop

>

Publishers

>

WORKMAN PUBLISHING
Books by Publisher: WORKMAN PUBLISHING
On sale!
Hardback
Save £2.74 =

£10.25
"It was her own personal journey that inspired Elle Luna to write a brief online manifesto that, in a few short months, has touched hundreds of thousands of people who've read it or heard Elle speak on the topic. Now Ms. Luna expands her ideas into [a] ... gift book...
On sale!
Hardback
Save £13.54 =

£26.46
One hundred and fifty recipes are presented in this cookbook, many of them unique to the author's restaurant, such as lobster-filled crepes with a carrot-emulsion sauce, topped with a pea-shoot salad dressed lightly with lemon-infused oil, to name one of the simpler ones!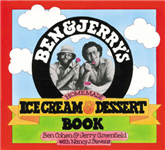 Tells the story of Ben & Jerry's ice cream company, and shares recipes for chocolate, fruit, and other flavors of ice cream, sorbets, sundaes, and sauces.