Sign up for offers & news
Enter your email address to receive news and special offers.
Shop

>

Publishers

>

Word Publishing,US
Books by Publisher: Word Publishing,US
On sale!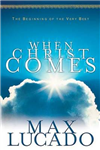 Paperback
Save £1.14 =

£7.85
Life with no end? Space with no bounds? And what about Armageddon, The Lake of Fire, The Mark of the Beast? Are you supposed to feel good about all this? If you have some questions about the end of time and what will happen in the end of times, Max...