Sign up for offers & news
Enter your email address to receive news and special offers.
Shop

>

Publishers

>

The Ethical Marketing Group
Books by Publisher: The Ethical Marketing Group
On sale!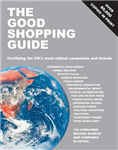 Paperback
Save £3.52 =

£11.43
10th anniversary edition! Guides readers towards some of the most ethical brands from companies who do not cause harm to or exploit humans, animals or the environment. This book features tables showing each company's involvement in such areas as: environmental reporting; genetic modification; nuclear power; animal welfare and much more.