Sign up for offers & news
Enter your email address to receive news and special offers.
Shop

>

Publishers

>

Tau Publishing UK
Books by Publisher: Tau Publishing UK
On sale!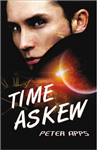 Paperback
Save £0.74 =

£7.25
Time travel is hard. Finding trouble is easy. The trouble does not have to be your fault. You just have to grapple with a universe that becomes more confusing with every move you make. How do you put right a mistake if don't know where, how or when it happened?...