Sign up for offers & news
Enter your email address to receive news and special offers.
Shop

>

Publishers

>

Running Press Miniature Editions
Books by Publisher: Running Press Miniature Editions
Paperback
Save £1.53 =

£8.45
With a continual stream of exciting releases from the Wizarding World leading to the launch of the film Fantastic Beasts and Where to Find Them in November 2016, Harry Potter fans young and old are as engaged as ever. Harry Potter Talking Sorting Hat and Sticker Book continues a magically...
Paperback
Save £2.34 =

£9.65
A completely revised and updated edition of Off Track Planet's Travel Guide for the Young, Sexy, and Broke
Hardback
Save £2.34 =

£9.65
The legendary Jacqueline Kennedy Onassis remains the first lady of fashion for legions of fans around the world-a style launched by her collaborations with iconic designer Oleg Cassini. Read about and see the countless trends they inspired in Jackie and Cassini.
Hardback
Save £0.74 =

£7.25
Elf, the 2003 film starring Will Ferrell as Buddy the Elf, has become the new family classic to watch over the holidays. This unique kit featuring Ferrell as Buddy including his voice!, makes a perfect stocking stuffer gift.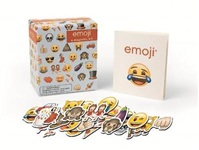 People of all ages love emoji. This officially-licensed kit includes a 56-page book and 50 magnets of the most widely used and popular emoji so you can create fun messages on the fridge or any magnetic surface!
Hardback
Save £0.74 =

£7.25
This kit includes a light-up shuttlecraft and a 32-page book on the history of shuttlecrafts,Star Trek fans will love it!
Hardback
Save £0.74 =

£7.25
The communicator is used for voice communication and serves as an emergency-signaling device for Starfleet. This kit includes a replica of the iconic communicator, which features light and sound, and a 48-page book on the history of communicators, complete with full-colour photos.
Paperback
Save £0.34 =

£6.65
THIS AQUATIC ACTIVITY BOOK Includes: Four 18" x 24" fold-out posters for you to colour and display, 24 pages of activities, games, and puzzles, Unbelievable facts you didn't know about the world down under so you can . . . See the ocean like adeep-sea diver! Solve offshore brainteasers like...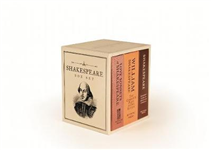 For fans of the Bard comes a deluxe box set of our three classic Shakespeare mini books: Shakespeare: The Bard's Guide to Abuses and Affronts, William Shakespeare: The Complete Plays in One Sitting , and Love Sonnets of Shakespeare . In this collectible slipcase edition, readers will have access to...