Sign up for offers & news
Enter your email address to receive news and special offers.
Shop

>

Publishers

>

Ruby Blaze Publishing
Books by Publisher: Ruby Blaze Publishing
On sale!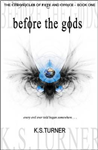 Hardback
Save £5.54 =

£14.46
This is where it all began. Everything. Love, hate, good, evil, us and them. Before the Gods by KS Turner successfully breaks the genre rules to produce something unique, crafting fantasy and science fiction to recreate the origins of humanity. This is imaginative, speculative and thought provoking work, with captivating...