Sign up for offers & news
Enter your email address to receive news and special offers.
Shop

>

Publishers

>

Random House Inc
Books by Publisher: Random House Inc
Hardback
Save £4.74 =

£13.25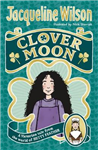 Clover Moon's imagination is her best escape from a life of hardship in poverty-stricken Victorian London. When tragedy plunges her into a world of grief, Clover realizes that everything she loved about the place she called home is gone. Clover hears of a place she could run to, but where...
Hardback
Save £2.74 =

£10.25
Evie and Maggie are still enjoying the glow of their victory as they travel into the forest on their coach. But the happiest day of Evie's life is suddenly turned upside-down when they're ambushed by witches. They dash back to the Academy, only to learn that the witches have been...
Paperback
Save £1.54 =

£8.46