Sign up for offers & news
Enter your email address to receive news and special offers.
Shop

>

Publishers

>

Pelham Books
Books by Publisher: Pelham Books
On sale!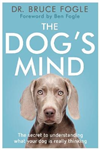 Paperback
Save £2.74 =

£10.25
How do dogs perceive the world about them? How do they see, hear, learn and relate to their owners? How large are their brains, what is their emotional make-up? Why do they suffer from stress, anxiety and how can it be coped with? This title is suitable for all those...