Sign up for offers & news
Enter your email address to receive news and special offers.
Shop

>

Publishers

>

GCR Books
Books by Publisher: GCR Books
On sale!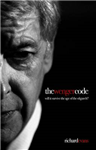 Hardback
Save £4.34 =

£12.65
Arsene Wenger; coach, manager and enigma at the heart of one of the greatest London football clubs. He is a walking conundrum of ideas, philosophy, sports psychology and an unwavering sense of self. He is the talisman of a Gunners side who have ridden the highs and the lows of...