Sign up for offers & news
Enter your email address to receive news and special offers.
Shop

>

Publishers

>

Babylon Books UK
Books by Publisher: Babylon Books UK
Hardback
Save £5.54 =

£14.46
Death: From Dust to Destiny features a rich collection of texts and images together with the authors' guiding commentary. The book offers a reflective meditation on the methods that artists, architects, and writers have developed to activate memory, and animate their subjects into a possibly-unending afterlife.
Hardback
Save £4.32 =

£12.63
This is the story of our search for life on other planets, from 16th-century heretic Giordano Bruno to the Kepler Space Telescope today. Astronomer Lucas Ellerbroek interviews the leading figures in the field, to give first-hand accounts of the modern history of exo-planet hunting.
Paperback
Save £1.54 =

£8.45
Ghosts: A Haunted History is a broad-ranging, clear-eyed survey of the ghost. Lisa Morton covers the early history of ghosts in folklore, literature and history as well as modern examples such as Ghost Hunters and The Conjuring.
Hardback
Save £3.54 =

£36.46
Charlotte Horlyck explores oil and ink paintings to video art, multi-media installations, ready-mades and performance, and the questions that arise about the role of art and the artist's position within society.
Paperback
Save £3.52 =

£11.43
In this book, Paris-based writer and Invisible Paris blogger Adam Roberts provides a concise and informative portrait of the iconic metropolis.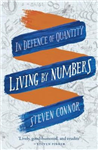 Living by Numbers: In Defence of Quantity explores the many ways in which we live in, and by, a world of numbers. Steven Connor discusses how numbers play a part in all aspects of life, from dealing with crowds to jokes, music, and painting.
Hardback
Save £7.54 =

£17.46
In this controversial new book, Stuart Blume argues that the processes of globalization and unsatisfied healthcare needs are eroding faith in the institutions producing and providing vaccines.
Hardback
Save £7.54 =

£17.46
In Aurelia, Carol Mavor reads the world of literature and art through the lens of the fairy tale.
Hardback
Save £3.54 =

£11.46
In this first comprehensive history of human swimming, Eric Chaline surveys swimming in all its variety and richness, from prehistory to the present day.