Sign up for offers & news
Enter your email address to receive news and special offers.
Shop

>

Publishers

>

Akasha Publishing Ltd
Books by Publisher: Akasha Publishing Ltd
On sale!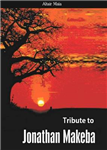 Paperback
Save £3.54 =

£11.45
Jonathan Makeba was a politician and businessman from Burkina Faso, West Africa. He negotiates a deal with a big company to mine phosphate and improve the country's economy. However before the project starts he suddenly goes missing. An economic adviser from Brazil, Altair Maia is hired to rescue the project...